Naperville Metal Alloy Products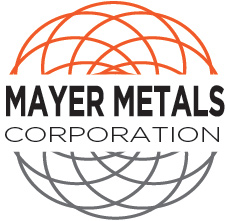 Mayer Metals Corporation provides a full-line of non-ferrous metal alloys in all forms including powder metals, sheets, bars, pigs, balls, wire and more throughout Naperville, IL. Check out our full line of high quality non-ferrous metal alloys by visiting our Products page.
At Mayer Metals, all metals are processed and recycled in compliance with ISO 9001, ISO 140001 and R2 certified environmental recycling standards. Documentation can also be provided for your records.
We serve many industries including:

3D Printing
Aeronautics
Federal, State and Local Municipalities
Military
Metal Stamping
Sputter targets
Our customer service is top notch and always available. Have questions? Our expert technical assistance is top notch and will easily be able to help with your needs at all times.
At Mayer Metals, we purchase nonferrous scrap metal at the most competitive rates and provide you with peace of mind that you are disposing of your scrap material safely and in compliance ISO 140001 environmental recycling standards.
We also offer an e-scrap program for businesses, municipalities, residents and charitable organizations to get rid of old end-of-life electronics.
For price quotations and/or technical assistance, we invite you to contact us or give us a call at 844-541-8999

Naperville, IL is a city in DuPage and Will counties in Illinois. It is a suburb of Chicago and was once voted as the second best place to live in America. It is listed as the best city for early retirement in the nation. It is also arguably the wealthiest city in the Midwest and 11th in the nation. It has a population of around 75,000.  It is the fifth largest city in Illinois.
Find more information about Naperville by visiting these local resources…
Naperville, IL – Located 28 miles west of Chicago, Naperville, Ill., consistently ranks as a top community in the nation in which to live, raise children and retire. This vibrant, thriving city is home to acclaimed public and parochial schools, the best public library system in the country, world-class parks, diverse worship options, an array of healthcare options and an exceptionally low crime rate.
Downtown Naperville – ith local, regional and national favorites shop and restaurants – such as Apple, Sephora, Anthropologie plus local favorites like Naper Nuts & Sweets, Little Luxuries and more, Downtown Naperville is like no other. With top-notch shopping and dining, Downtown Naperville is the premier and preferred shopping destination in Chicagoland.
Scroll